Alzheimer 's Disease - Home Care Keeps You Comfortable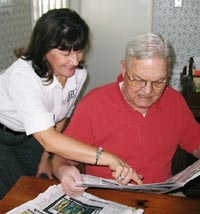 Seniors with dementia and diseases such as Alzheimer's can often be prematurely placed into nursing homes. Senior home care is an often overlooked alternative to nursing care facilities. This disease will eventually take your loved one away, and is painful to watch. There are many different stages.
One of the first noticed symptoms is often a slight forgetfulness that is often attributed to old age. This can range from not being able to remember dates, names, or where they put things. This stage often needs no medical assistance, and can last for years. Family members often care for seniors during this time.
Alzheimer's disease will begin to cause severe confusion, and large chunks of memory loss. These range from not being able to remember who their children are, or wandering around in a different year or both. Family members will often decide to place their loved one into a nursing care facility. Senior home care is an option that is not widely advertised for those who suffer from Alzheimer's.
When you choose to have Senior home care come and care for your family member, it can lessen the mental stress upon them. When you put patients with dementia in nursing care facilities, they can sink into depression, and not remember why they are there. When you choose to have them cared for in the home they are around familiar surroundings. Most importantly they get to remain with their loved ones.
The average yearly cost of a nursing facility can be over $250,000 per year, while hiring a senior home care company can cost you less than $100,000/year. This can be a heavy burden to bear, both mentally and financially. Long Term Care Insurance Companies can help cover home health care costs for Alzheimer's patients, depending on levels of care needed.
You can never tell how long a family member will need to be cared for. The progression of dementia is different from patient to patient. While the need for nursing care can last for 10-15 years, it is common that only the last 2-3 years need to be in a nursing care facility. Not only can you save money in choosing senior home care, but you can help your loved one stay at home, with those who love them the most.
Seniors Home Care provides assistance in the home for those needing help with services such as medication management, meal preparation and companionship/stimulation. For a more complete list of the services we offer, please visit our services page. If you feel that you would like to know more about our services or would like to schedule a complimentary assessment for you or a loved one, please contact us.
If home care is an option you are considering, use these helpful tips when choosing a home care company.
Join the Discussion
Seniors Home Care reserves the right to remove anything deemed inappropriate, off-topic or otherwise questionable; however, we have no responsibility to do so.