Private Home Health Care Jobs 101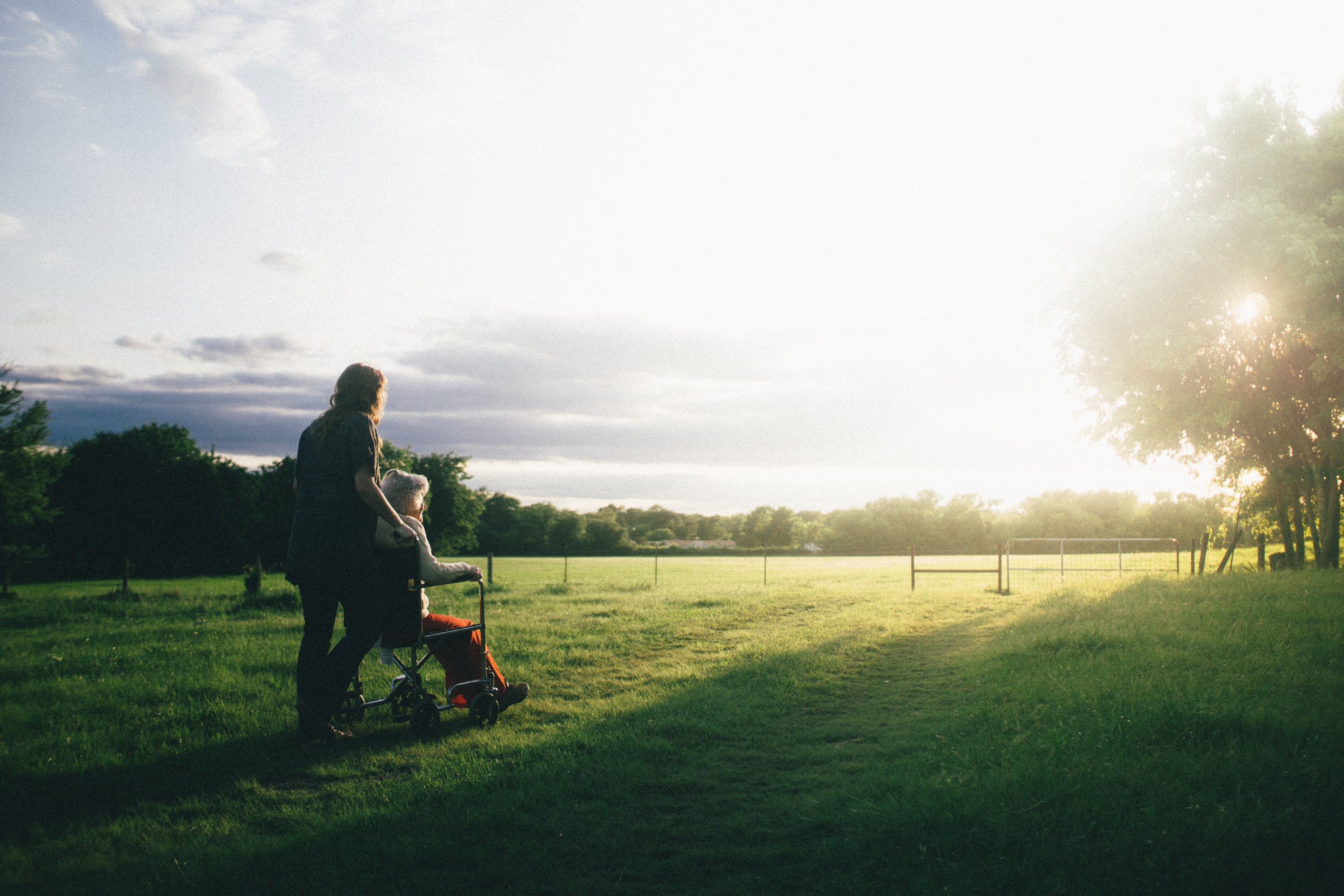 When it comes to aging, most people are afraid, resistant, or otherwise hostile. Making the process easier for older adults is a really lofty goal, and that's what private home health care jobs are here for. Those professionals work to keep seniors in their homes and provide whatever support they need, proving that aging doesn't have to be scary.
If you're interested in making a career change, elderly care jobs in your area might be just the kinds of opportunities made for you. Here, we'll take you through the different aspects of these positions, detailing what they are and how they work, as well as their benefits and drawbacks. But first, let's cover the basics of what these jobs are all about.
What are private home health care jobs?
Simply put, these kinds of positions are about helping seniors stay at home for as long as possible. Home health aides can fill a lot of different roles. Some seniors only need a few hours a week of help with light housework. Others have medical conditions that require specialized care for most of the day. Lots fall somewhere in the middle. The goal of elderly care jobs near you is to fill in whatever gaps the seniors have in their care.
Having elderly care jobs nearby is important so that all seniors can have access to the care they need. Private home health care jobs entail visiting the seniors where they live, whether that's in a retirement community, assisted living, a family home, or any other living arrangement. Home health aides can work in conjunction with a senior's family or separately, if they live far away. Private home health care jobs are flexible positions that fill an important role in society.
Benefits of Private Home Health Care Jobs
Now that we know what private home health care jobs are, let's dive into how they benefit the people who do them. We're not talking about PTO and health insurance; we're talking about the personal upsides to this kind of work. There are a lot of different reasons why people are drawn to private home health care jobs, and we couldn't possibly cover all of them here. We'll give you a brief snapshot of the biggest benefits to entering this field. Let's get right to it.
Meaningful Work
This is probably the biggest benefit to private home health care jobs. You know that you're really helping people. Many seniors want to stay in their homes. Aging in place is a big deal for a lot of folks, and they want to avoid moving at all costs. Home health care aides are integral to making that happen.
Lots of families think they should be able to care for their elderly loved ones all on their own, but that's not always possible. People have demanding lives. Adding on being a full-time caretaker to their already overflowing plate can make a difficult situation worse. When they're able to have a private home health aide come in to take some of the burden off their shoulders, they're finally able to get a little relief. It's a hard decision for a lot of families, and home health aides are there to make it easier.
Powerful Bonds
This is something of an add-on to the last benefit. When you work with a senior for a period of time, you'll start to become an important part of their life. They might share their history with you, and you'll likely form some kind of bond. Getting to know some really lovely elderly folks with a whole wealth of wisdom to share with you can be a huge benefit.
The families of your clients will also likely be hugely grateful for your work. If they usually take care of their loved one and just employ your services for brief respites, you'll know you're providing them much-needed relief.
If you've been working as a nurse in a fast-paced institution, you probably haven't had a chance to form too many close relationships with your patients. Private home health care jobs are the exact opposite. You'll get to spend enough time with your clients to really get to know them.
Flexible Schedule
If you're not suited for long hours at a desk, private home health care jobs might be the right fit for your more active disposition. Depending on how you're hired, you might be able to set your own hours. Some private home health care jobs are through agencies, and others are independent.
If you're trying to decide between independent and agency private home health care jobs, then you'll need to weigh your options. You're going to have a lot more control and flexibility with your schedule if you go the independent route. The families you serve will also be saving a fair bit of money — as much 20 to 30 percent.
If you decide to go the agency route instead, they'll handle your schedule, but you also won't have to be an employee of the families you work for. Having an agency take care of your assignments, salary, benefits, and everything else can take a big weight off your shoulders and let you focus on your clients. You'll just have to decide which route makes more sense for you and your priorities.
No matter what you choose, there's going to be more variety in your schedule than you would get at a regular nine to five because you're visiting your clients in their homes.
Professional Development
Most agency private home health care jobs offer some form of ongoing training. This will be especially important if you're not already coming from a health care job like nursing. Staying on top of your game and learning about all the new advancements in the field will make sure you're doing the absolute best job you can. Access to these trainings is a big reason to look into elderly care jobs near you.
Job Security
Private home health care jobs are in such high demand you don't need to worry about it being hard to find a position. As our population ages, there's more and more need for people to help the aged with everyday tasks as well as more specialized medical concerns. In fact, the number of these sorts of jobs is expected to increase by over 30 percent between 2018 and 2028. Private home health care jobs are always going to be necessary — you can't automate this work or move it overseas.
This is not to say that all elderly care jobs near you are completely safe. You're sure to see some client turnover, especially if you decide to become an independent home health aide. But on the whole, you don't need to worry about changing careers due to lack of opportunities in the next few years. This sector is growing rapidly. There's plenty of opportunity for you to jump in.
Challenges of Private Home Health Care Jobs
It's not all sunshine and roses, though. Like any position, there are definite downsides to private home health care jobs. We're not going through these to dissuade you from pursuing elderly care jobs near you, we're just trying to give a complete picture of what these positions entail. All those benefits are very real and compelling, so keep them in mind as you read through some of the following challenges.
You'll need to have some muscles.
These can be very physically demanding careers. You might need to lift clients who have limited mobility or otherwise support their weight. You also might be doing a lot of housework of varying degrees of physical difficulty. It will depend on what your clients need.
Another consideration is what the physical demands of the clients' homes are. Do they live in a house with a lot of steep stairs? Is there an elevator to their condo? You might not know until you get there. Home health aides need to be physically fit enough to get the job done. Of course, it's not as demanding as something like construction, but you'll still need to be completely mobile on your own. This includes your own form of transport.
This work can be draining.
We already went over the physical demands, but private home health care jobs can be emotionally demanding, as well. You might be caring for someone in the last period of their life. That takes a toll on a person. Plus, many clients have dementia or other conditions that can make them irritable or otherwise hard to deal with. Not every caregiver relationship is going to be great.
We already went over all the powerful and emotional bonds you will likely form with your clients and their families. Those are definitely real, and they'll be hard to let go of when the time comes. At the same time, you're not going to get along that well with every single client. There should be compatibility factors in place, but people are people and sometimes it doesn't work out. All of these factors can make elderly care jobs in your area emotionally difficult at times.
You might not get your preferred hours.
While we put the flexible scheduling possibilities in the benefits section, the hours can also be a drawback for some people. Depending on whether you're working for an agency or not, you might not have much control over those hours. You might have some clients that need around-the-clock care. That can mean night shifts for those who'd rather work during the day and long hours.
The money isn't great.
The biggest challenge, though, is likely the compensation. You're not going to get rich by searching "elderly care jobs near me" and getting hired by the first result. However, as we've already enumerated, there are plenty of awesome benefits to this kind of work that make up for these challenges for a lot of professionals. A rewarding career where you're making tangible improvements in people's lives is its own sort of compensation.
How to Find Elderly Care Jobs Near You
If you haven't been scared off by all these challenges, then you're likely wondering, "Where can I find elderly care jobs near me?" It's a great question! Like we stated in a previous section, it shouldn't be too difficult to find open elderly care jobs near you. These sorts of jobs are super important and always in demand.
This will largely depend on your location. Elderly care jobs in your area might be more spread out if you live in a rural area. We here at Seniors Home Care are located in the St. Louis, Missouri, area, and it's definitely not hard to find elderly care jobs near St. Louis.
If you're trying to set yourself up as an independent home health aide, then your process of finding a position is going to differ greatly from those trying to work for an agency. There are actually two different ways to be an independent caregiver, either as a private hire caregiver or as an independent contractor. Each way has its own pros and cons, and if you want to read more about making that decision, you can check out this article. Getting client leads independently will be vastly different from working in an agency. You'll have to work on that before you get started!
Private home health care jobs are great opportunities.
Now you know what all you're getting into when you're looking at elderly care jobs near you. Sure, there are difficult parts of the job, just like with any position. But if you're able to see how the benefits outweigh the drawbacks, then you're in for a rewarding career. Private home health care jobs can be great opportunities, whether you work independently or through an agency.
If you're looking for elderly care jobs in the St. Louis area, then Seniors Home Care might be a good fit for you. You can check out our open applications
here
. We're always interested in adding qualified professionals to our team. We believe in dignity, integrity, compassion, and advocacy, and if you think you can bring those values to clients, then you might be just right for our agency. You can learn more about us and our employment opportunities
here
.
Join the Discussion
Seniors Home Care reserves the right to remove anything deemed inappropriate, off-topic or otherwise questionable; however, we have no responsibility to do so.