Core Values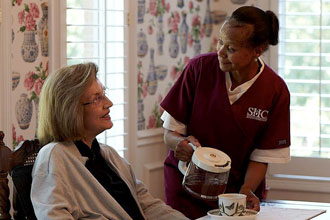 Employees of Seniors Home Care understand the importance of our 10 core values. These values shape our work ethic, the decisions we make, and our compassion for our clients and those who touch their lives.
Mission Statement:
The Seniors Home Care (SHC) mission is to provide the highest quality home care services in the St. Louis area. Through satisfying each client's need to enjoy a dignified, independent and safe life, we achieve a guilt-free, less stressful environment for our clients' family members to enjoy with their loved ones.
SHC is guided by our passionate commitment to help seniors achieve the highest quality of life. We distinguish ourselves through the exceptional abilities of our caregivers and through our adherence to a system of 10 core values:
Integrity
Ethical, honest, and sincere behavior is the hallmark of our organization, as evidenced in both our words and deeds.
Self-Worth
We will ensure that our work environment promotes the attainment of human dignity and self-respect for each employee.
Planning
We embrace planning as an essential means to both reduce the uncertainty of potential future events and efficiently allocate resources.
Openness
We will strive to create an environment where all relevant information is shared with employees and client—and where ideas are solicited, acknowledged, and respected.
Cooperation
We will work together to create a spirit of teamwork and cooperation and seek win-win results in all situations.
Tradition
We believe strongly that tradition is vital to stability and organizational identity and as such will employ role models, customs, and rituals to characterize our expectations and epitomize our uniqueness.
Trust
We will make mutual trust the starting point of our relationships and, along with integrity, the foundation of our business practices.
Performance Excellence
We will commit ourselves to 'Being the Best' by working toward the highest standards of excellence in all aspects of our business relationships and at all levels within our organization.
Work Teams
We believe that the form of organization that makes the greatest use of human capabilities consists of highly effective work teams.
Client Focus
We understand that the only reason our organization exists is to satisfy our internal and external clients.