24/7 Care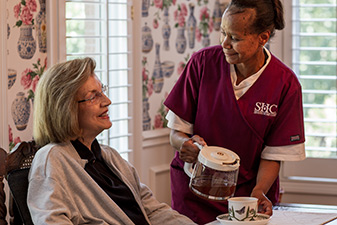 When seniors are able to spend their golden years in the comfort and familiarity of home, those years are truly golden. Since 1987, SHC has allowed them to extend those years at home, becoming the trusted, in-home alternative to assisted living and nursing homes.
Round-the-clock care, an alternative to facility living
As much as you might wish to, you can't always provide round-the-clock care for a loved one in fragile health. Kit Whittington, our founder, understands firsthand what you're going through.
Years ago when her grandmother needed round-the-clock care, in-home options weren't available. Rather than admit her grandmother to a nursing home, Kit made the difficult decision to quit her job and care for her grandmother herself. That experience planted the seed for Seniors Home Care. Since 1987, our mission has been to provide the same level of personalized, flexible, in-home care that Kit was blessed to be able to provide for her grandmother.
""

Not just round-the-clock care. Tender, capable, in-home care.
Common scenarios requiring 24-hour care (long-term or temporary)
Individuals who are at risk when left unattended – usually due to physical frailty or cognitive impairment such as Alzheimer's disease or dementia
Recently released hospital patients needing assistance, encouragement and supervision
Families caring for an elder full-time in need of respite or a vacation
What SHC round-the-clock care provides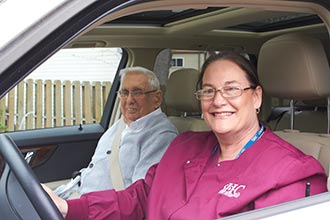 When you engage round-the-clock care through SHC, your loved one will receive one-on-one care from a consistent, familiar team of trained and experienced caregivers. This direct care provides:
Safety in the familiar home environment
Reliable supervision and support
Companionship, through personal assistance and interaction
An advocate for the elder's best interest
Stimulation of mind and mood – an experienced caregiver can match enjoyable activities to a client's capabilities
Peace of mind to families – visits can focus on enjoyment, free from the stress of caregiver duties
Personal care and household tasks
""

Let Seniors Home Care ensure that the golden years are golden
What sets SHC apart
Our caregivers are awake, alert and oriented during all shifts, including overnights, to ensure utmost safety
A professional team are available around the clock to assist any client or caregiver needs that may arise
All cases are overseen by an SHC registered nurse, with the option of additional case management
Our caregivers undergo drug testing upon hire and randomly, using a professional, third-party testing site – a standard uncommon in our industry

Think of us as part of the team
By using 24-hour care, you're not abandoning your loved one but rather preserving their dignity and independence while enriching both of your lives. SHC caregivers can never replace the affection of a senior's loved ones, nor would we presume to. We're not there to "take over" but merely to assist you and help your loved one lead a safe and dignified life. You can rely on us to be there for your loved one when you cannot, confident that we'll treat them as tenderly as our own.
You can also count on us as thoughtful, trusted advisors that support confident decision-making by your entire family. We collaborate with you to custom tailor the care that is right for your family, your goals and your unique situation, and then we coordinate that care.

Contact us today to learn more about 24-hour care.