FAQ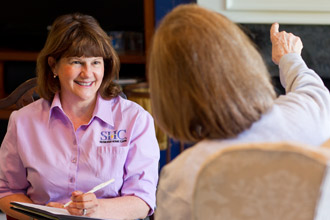 If you are like most of our clients, you may have questions regarding private duty home care. You will find some of the most commonly asked questions below.
Choosing a home care provider is one of the most important decisions you will ever make. For additional help in making your decision, visit our resources page.
Top 10 Frequently Asked Questions
What services does Seniors Home Care provide?
Seniors Home Care provides personal care (bathing, dressing, mobility), meal preparation, medication reminders, transportation, light housekeeping and much more. For a more complete list, including R.N. skilled nursing services, visit our How We Can Help page or call our office at 314-962-2666.

Are services available 24 hours a day, 7 days a week?
Yes, services are available ranging from as little as a three-hour visit up to 24 hours a day, 365 days a year.

What can I expect on the first day?
Careful consideration and selection go into placing the "best of the best" caregiver with your loved one. Your caregiver will arrive at your home with a complete understanding of your needs, a plan of care, and resource information from our office.

Can my caregiver administer medication?
Your caregiver can provide medication reminders and assistance; however state law does not allow any unlicensed individual to administer medications. Seniors Home Care has a medication management program available to meet your needs, should they include more than reminders.

Do you provide services in nursing homes or assisted living?
Our services are available to your loved one no matter where they call home. That includes a residence, independent living facility, assisted living, nursing home, hospital, or rehabilitation facility.

How do you screen and train your employees?
The screening process begins with a complete and thorough background check. After their professional references have been checked, each employee goes through several interviews. Once hired, all employees go through company orientation, a skills competency test, and various training courses. We require caregiver advanced training for all of our employees (unless they are already a current Certified Nursing Assistant). In addition, we perform random drug screening for our current employees by a third-party company.

Does Medicare pay for Seniors Home Care services?
Seniors Home Care is a private duty home care company whose services are not covered by Medicare. This is true for any private duty home care company. If you require assistance with Medicare, we can assist in setting up these services for you.

I have a Long Term Care Insurance (LTCI) Policy that I would like to use. What should I do?
When you call Seniors Home Care, we will help you understand your long-term care insurance policy. Because each policy is different, we will help determine what criteria must be met in order to qualify for benefits. SHC can file and coordinate with your LTCI company to make reimbursement easier for you. We even have a department, especially for long-term care insurance.

How do I contact the Seniors Home Care office?
Seniors Home Care is available 24 hours a day, seven days a week, by contacting our main office number at 314-962-2666. Day or night, we are here to answer specific questions about your loved one's care. Our regular office hours are 8:30 a.m. to 4:30 p.m., Monday through Friday.

Are clients able to remain at home to the end of life?
Yes. Seniors Home Care works with many hospice organizations in the St. Louis area to provide assistance with the longer shifts required at this time in a person's life.