Your COVID-19 Action Plan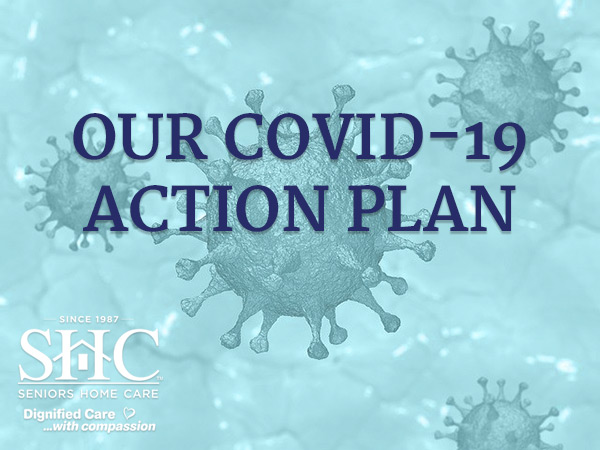 An important message from CEO Ryan Whittington
These are challenging times. Properly caring for our clients has shifted from providing safety and security to a shield against imminent danger. COVID-19 has shown itself to be particularly devastating to our oldest generation, particularly in communities and facilities that provide care.

I am so proud of the way our staff has risen to the challenge, and this challenge is far from over.

I'd like to share with you some of the issues we are seeing in the community and how our company is responding.
Safety First
Our very first action was to protect our current clients and staff. A small percentage of our current clients suspended services in order to shrink the number of people in their homes. While we lost business, this actually aided our response. We were able to quickly shift our staff so that every client was served by the smallest number of caregivers possible.

We also immediately began acquiring protective supplies such as masks. Our goal was to make sure every caregiver was protected, and in turn, protect our clients.

We've also issued strict guidelines to our staff to make sure they recognize the first signs of infection, both personally and with the families they are serving. We are doing our best to educate family members of our clients as well.
Personal care facilities and communities on lockdown
Transitioning from home to a personal care community or care home is a long process. Many families were in the midst of this process when these communities were locked down. Almost every facility in the region is closed to visitors as well as new residents. Because of this many families recognize that they need home care either as an alternative or as a temporary solution during the transition.

Almost as quickly as our current clients began suspending service, new families came to us in need. We were one of the few companies in the area that was able to respond quickly and provide high quality and healthy caregivers.
What the future holds…
Families around America are reconsidering their options when it comes to providing care for older people they love.

We think they will come to the same conclusion we have, the best option for a majority of families is aging in place in the comfort of their own homes and apartments. We look forward to this opportunity to serve the families of greater St. Louis.

We also understand that this raises the level of responsibility our team must take. Seniors Home Care has always been at the forefront of caring for older people struggling with dementia and mobility impairments, and we plan to further expand COVID-19 training to our current staff and to recruit top-quality talent from around the region.

It's been an honor to serve during this trying time.

We wish you all good health and happiness.

Sincerely,
Ryan Whittington, CEO