Newsletter Archive
2013 │ Edition 3
Dear SHC clients and friends,

Our year is in full swing. Many things have taken place since the first of the year and many more are planned for the remainder.

We have moved to our new office (notice the information included about our open house in the notes section) and we love it. We even have a whole floor dedicated to employee training!

Our new company mascot, a female poodle named Gigi, joined the team on Friday, July 5. She is a ball of energy. Stop by anytime to say hello. She is cute.

We recently made a wonderful new addition to our blog. Ted Ryan, our administrative assistant and blog guru, has been working with Medical West to highlight products that will help make aging at home more comfortable. If you missed this addition, look for the "blog" tab on our website, www.seniorshomecare.com. Your comments are welcome.

We have a new addition to the SHC calendar. On Saturday, November 23, we will be holding a trivia night. More details are to follow, however, if you are interested in participating or donating a raffle prize, please call me in the office at 314-962-2666.

Lastly, thank you to our referral sources and clients. You have helped us grow for 26 years and we appreciate it. We all work very hard every day to make you want to rave about the services we offer.

Yours in service,
Ryan Whittington C.D.P.
Director of Operations
24-Hour In-Home Care
Uses and Benefits to Seniors and their Family Caregivers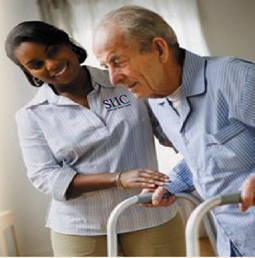 More than ever, seniors are spending their golden years in the comfort of home. This is largely due to the availability of 24-hour care - full-time in-home assistance and supervision to individuals who would otherwise need to move into an assisted living facility.
There are various situations in which 24-hour care (long-term or temporary) is best suited.
They include:
Individuals who are at risk when left unattended - usually due to physical frailty or cognitive impairment
Recently released hospital patients needing assistance, encouragement and supervision
Families caring for an elder full-time in need of respite or a vacation
Spouse or family assistance
By enlisting in 24-hour care, a senior will receive one-on-one care from a consistent team of trained and experienced caregivers.
This direct care provides:
Safety in the familiar home environment
Reliable supervision and support
Companionship, through personal assistance and interaction
An advocate for the elder's best interest
Stimulation of mind and mood - an experienced caregiver can match enjoyable activities to a client's capabilities
Peace of mind to families - visits can focus on enjoyment, free from the stress of caregiver duties
Regular meals and medication reminders
This is not to say that caregivers replace the affection of a senior's loved ones. By using 24-hour care, you are not abandoning your loved one but rather enriching both of your lives. An agency is not there to take over; it's there to assist you and help your loved one lead a safe and dignified life. You are a part of the team.
Seniors Home Care would like the opportunity to help preserve your family's welfare. Company founder Kit Whittington RN discovered her calling while providing care for her own grandmother. You can count on us to be there when you cannot, confident that we'll treat your loved one as tenderly as our own.
Several factors that set SHC apart include:
Our caregivers are awake, alert and oriented during all shifts, including overnights, to ensure utmost safety.
A registered nurse and scheduler are available 24/7 to assist any need that may arise.
All cases are overseen by an SHC registered nurse, with the option of additional case management.
All employees have a drug screen before hire and SHC does random drug screenings for all employees by a third party clinic.
Source: Ted Ryan, SHC
---
Susan G. Komen Race for the Cure
Thanks to all our staff who walked or donated to the Race for the Cure. Seniors Home Care raised $1,259.00!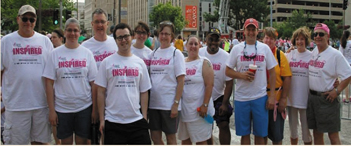 ---
Senior Exercise Tips to Keep a Healthy Body and Mind
Though the rewards of exercise are universal, considerable evidence links increased benefits to seniors and aging adults. Among these are:
Helping achieve and maintain a healthy weight
Reducing the impacts of chronic disease and illnesses
Increasing balance, flexibility and mobility, reducing the risk of falls
Improving sleep habits
Promoting brain functions that help prevent cognitive decline, dementia and memory loss
The value of exercise is clear. However, the step from knowing that you should exercise to starting to exercise can still be difficult. There are many reasons that seniors - and people of any age - become discouraged about starting the quest toward better fitness. Don't give in. Here are several ways to help make exercise manageable, even if the weather outside isn't very inviting:
Head to the gym. You can set your own pace on a treadmill, stationary bike, or in the lap lane of the pool. Many fitness centers offer programs, such as SilverSneakers, specially tailored for seniors. The YMCA of Greater St. Louis offers various older adult and senior-specific programs.
If the gym feels intimidating, the St. Louis Senior Center offers an exercise class every weekday morning. They also host dances regularly to help you stay physically and socially active.
Try gentle exercises, such as low impact aerobics, water aerobics, yoga, pilates, Tai Chi.
Walk. It can be done at your own pace and virtually anywhere. Mall walking is possible in any weather and may provide a nice change of scenery. For additional exercise, take a trip up the stairs.
It's possible to be fit at any age. Reaping the rewards of exercise doesn't require strenuous daily workouts, but rather incorporating more movement and activity into your life. Invite a friend to join you. Not only will you help their health, you'll find that it makes the experience more enjoyable and easier to stick with when you have someone by your side. The avenues to staying fit are only limited by your imagination.

Always talk to your doctor before starting any exercising program.
Source: Ted Ryan, SHC
---
What you need to know about Durable Medical Equipment
Part of a good assessment should include assessing the needs for devices such as a wheel chair, bedside commode and/or grab bars. In the medical industry, this is called Durable Medical Equipment (DME).
Is my need covered by Medicare?
Medicare generally defines durable medical equipment as equipment that:
Is reasonable and necessary for the individual patient
Can withstand repeated use
Is primarily used to serve a medical purpose
Is not useful to a person in the absence of illness or injury
Is appropriate for use in the home
This includes items such as:
Alternating Pressure Pads and Mattresses, and Lambs Wool Pads: Covered in certain cases. Your doctor must specify that he or she will be supervising their use in connection with your treatment.
Bed Side Rails: Covered if your condition requires them, and if Medicare has already determined that your loved one requires a hospital bed.
Hospital Beds: Covered under very specific conditions and must be ordered by a doctor.
Wheelchairs: Covered if your condition is such that without the use of a wheelchair he or she would otherwise be bed or chair confined. He or she may qualify for a wheelchair and still be considered "bed confined" for purposes of other Medicare equipment benefits.
This excludes items such as:
Bathtub Seats: Not covered. Not primarily medical in nature.
Grab Bars: Not covered. Not primarily medical in nature.
Incontinent Pads: Not covered. Non-reusable; not primarily medical in nature.
Medicare regulations change often, so check with your local Medicare office for information on any specific equipment that you may need.
Source: Ryan Whittington - SHC
---
Ring Pull Can Opener
No more broken finger nails or bruised knuckles. Now you can open ring pull cans with ease.
Just hook the ring into the tool and press down. Non-slip handle is comfortable to grip. 8-1/2"L
www.goldviolin.com
1-877-648-8400