Newsletter Archive
2015 │ Edition 3
Dear Clients of SHC,

Not a day goes by that I am not able to share my family's story about the founding of Seniors Home Care and the importance of independence at home. It is such a great story, originating with my mother, Kit Whittington, meeting and answering the caregiving needs of my great grandmother. The story continues to be written today, with you playing a role.

Today, and throughout our years of existence, we are always looking for ways to exceed expectations and provide excellence in home care. I feel that it is this continued company-wide quest for excellence that allows for an opportunity where caregiver and client can come together and create happiness.
Today I welcome you to join me and celebrate the excellence around us.

Yours in service,
Ryan Whittington
Director of Operations
The Eighth of Seniors Home Care's 10 Core Values
Excellence
Practice highest standards in all aspects of our business.
I strive to give clients care that not only meets, but exceeds, their expectations.
Excellence is a talent or quality which is unusually good and surpasses ordinary standards.
It is the quality of being outstanding and giving more than expected.

Walking for the Cure!
June 13 marks the 17th Annual Susan G. Komen St. Louis Race for the Cure®. At Seniors Home Care, we're proud to walk as a team for our fourth consecutive year and join tens of thousands of fellow participants on a mission to save lives and end breast cancer.

In 1982, Nancy G. Brinkler founded Susan G. Komen® to honor her sister and end the disease that took her life. Since then, the charity has funded more than $847 million in research and provided more than $1.8 billion in funding to screening, education, treatment and support programs.

Furthermore, Komen St. Louis has raised more than $30 million for the local fight against breast cancer.

It was caring for her grandmother with cancer that led founder and CEO, Kit Whittington, RN, to establish Seniors Home Care 28 years ago.

If you would care to make a donation, click here. Every little bit helps this wonderful cause.

Walking Tips for Seniors
Walking for daily exercise is low-impact, safe and free. It can also improve cardiovascular fitness and strengthen muscles and bones.

Stay safe while walking.
Choose a familiar route that is flat and free of obstacles.
Consider the surface you'll be walking on. A smooth, soft surface that's free of debris will put less strain on your joints and feet.
Wear supportive footwear – wear low-heeled footwear with non-skid soles.
Avoid rushing, which increases your risk of falling.
If using a walking aid (e.g. cane or walker) ensure that it is fitted for your height.
Walk with friends or a walking club.
Carry a cell phone in case of emergencies.
Dress appropriately for the weather and drink plenty of water.
Stop or take a break if you feel any pain during your walk. Consult a health care provider if pain continues after your walk.
Source: walkandrollpeel.ca





SHC Client Testimonial
"My parents received excellent care. The caregivers are thoughtful and innovative in making sure they can live in their own home. The staff is reliable, courteous, and on-time. Never concerned with having a "stranger" in the house. The caregiver becomes a trusted member, like family!" Peggy L.
Protecting Your Skin from the Sun
The arrival of warmer weather usually means spending more time outdoors in the sun. However, no matter what time of year it is, it is important to protect your skin from the harmful ultraviolet (UV) radiation found in sunlight. Exposure to UV radiation is the number-one cause of skin cancer, which is the most common type of cancer diagnosed in the United States. Fortunately, most types of skin cancer can be prevented or successfully treated if they are found early.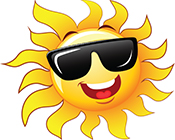 Sun protection tips
Because most skin cancer is caused by excessive and unprotected exposure to UV radiation, here are a few simple steps you can take to help protect you and your family:
Use sunscreen, even if it's cloudy. Choose a sunscreen that protects against both UVA and UVB radiation, is water resistant, and has a sun protection factor (SPF) of 30 or higher.
Apply a generous amount of sunscreen 15 to 30 minutes before going outdoors. Reapply at least every two hours if you are swimming or sweating.
Sunscreen creams are better for dry skin, and gels are better for the scalp or hairy areas. If possible, avoid using sunscreen sprays. The FDA has concerns that not enough sunscreen makes it onto the skin and that the spray may be inhaled into the lungs.
Sunscreen should be worn year round whenever you are outside. Do not use if they have expired.
Be careful around water, snow, or sand. These surfaces reflect the damaging rays of the sun, which can increase the chance of sunburn.
Limit sun exposure between 10:00 a.m. and 4:00 p.m., when the sun's rays are most intense. Practice the shadow rule: if your shadow is shorter than you, the sun's rays are at their strongest, and you should find shade.
Wear sunglasses with 99% to 100% UV absorption to provide optimal protection for the eyes and surrounding skin.
Pay attention to the UV index, which is often included in the weather report. This index is a relative measure of how damaging exposure to the sun will be on any particular day. When the index is 10 or higher, people should stay indoors, if possible.
Be even more cautious if you are taking medications that may make you more sensitive to the sun, such as specific types of antibiotics, anti-inflammatories, antifungals, blood pressure medications, and chemotherapies.
Try not to rely on the sun to get your vitamin D. You can get enough vitamin D safely through a healthy diet that may include vitamin supplements.
Avoid tanning beds or sunlamps.
Source: www.cancer.net
4th of July Fun Facts
The 4th of July is nearly upon us. Here are some fun facts to share and impress your friends.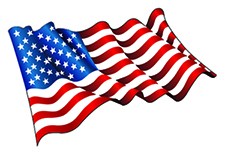 Three of the first five presidents died on the Fourth of July – John Adams, Thomas Jefferson and James Monroe. Adams, the second president, and Jefferson, the third, died on the same day in 1826, the 50th anniversary of the Declaration.
Calvin Coolidge, the 30th president, was born July 4, 1872.
Malia Obama (daughter of Barak Obama) was born on the Fourth.
The famous Nathan's 4th of July Hot Dog Contest supposedly began after a disagreement among four immigrants over who was the most patriotic (in 1941).
What is the meaning behind the red, white and blue colors of the American flag? Red stands for hardiness and valor. White symbolizes purity and innocence. Blue represents vigilance, perseverance and justice.
According to Newsday, the Macy's Fourth of July in New York City will feature 1,800 shells a minute, for a total of more than 40,000 explosions during the 25 minute show.
Americans consume 150 million hot dogs on July 4th each year.
The name "Uncle Sam" originated in 1812, when a meat packer by the name of Sam Wilson provided meat to the U.S. Army. Someone saw the meat shipments that were stamped with U.S. and joked that the initials stood for "Uncle Sam" and the name stuck.
The stars were in a circle on the first flag to show that all the colonies were equal.
Source: www.ibtimes.com
Lamp Switch Turner
The lamp switch turner makes it easy to turn on lamps. The product simply slides right over the existing switch to provide an easy, stress-free grasp. Each package comes with two turners that fit over most standard lamp switches. They are easy to install and require no electrical connections.
www.carex.com