Newsletter Archive
2019 │ Edition 2
Dear Friends,

Spring has sprung and summer is upon us. To me, this time of the year is always great for enjoying the outdoors and look forward to some of the fun events we have planned for the year. The warm weather and long summer days seem to offer more time for both relaxing and getting things done.

In July, we are holding a series of caregiver meetings. I always enjoy these gatherings. Since we provide care in clients' homes, many caregivers rarely get to see one another so it is always a treat to get groups of employees together. We take advantage of this time to communicate company policies and updates to caregivers and learn from their feedback in return. It's also just a great chance to get to see faces that we don't get to see as often!

I hope that everyone enjoys a safe and healthy summer!

Yours in Service,
Kit Whittington
RN, BSN, FOUNDER
SHC Caregiver Saves The Day!
She Was Aware of Stroke Warning Signs
We recently awarded our Caregiver of the Week Award to our caregiver, Tyra, who noticed signs of a stroke in her client and dialed 911, ensuring that her client got the help that she needed. We're very proud of Tyra and would like to take the opportunity to reshare the stroke warning signs.

Stroke is a medical emergency. Every second counts, because time lost is brain lost! Know these stroke warning signs and share them with others:
Sudden numbness or weakness of the face, arm or leg, especially on one side of the body.
Sudden confusion, trouble speaking or understanding.
Sudden trouble seeing in one or both eyes.
Sudden trouble walking, dizziness, loss of balance or coordination.
Sudden, severe headache with no known cause.
If you or someone with you has one or more of these signs, don't delay! Call 911 or the emergency medical services (EMS) number immediately. Also, check the time so you'll know when the first symptoms appeared. It's important to take immediate action. If given within three hours of the start of symptoms, a clot-busting drug can reduce long-term disability for the most common type of stroke.

Source: American Heart Association
Get to Know…Julie Daubendiek, RN, Case Manager
Julie is a member of SHC's Nursing Department, where she performs skilled nursing visits, monitors changes in client condition and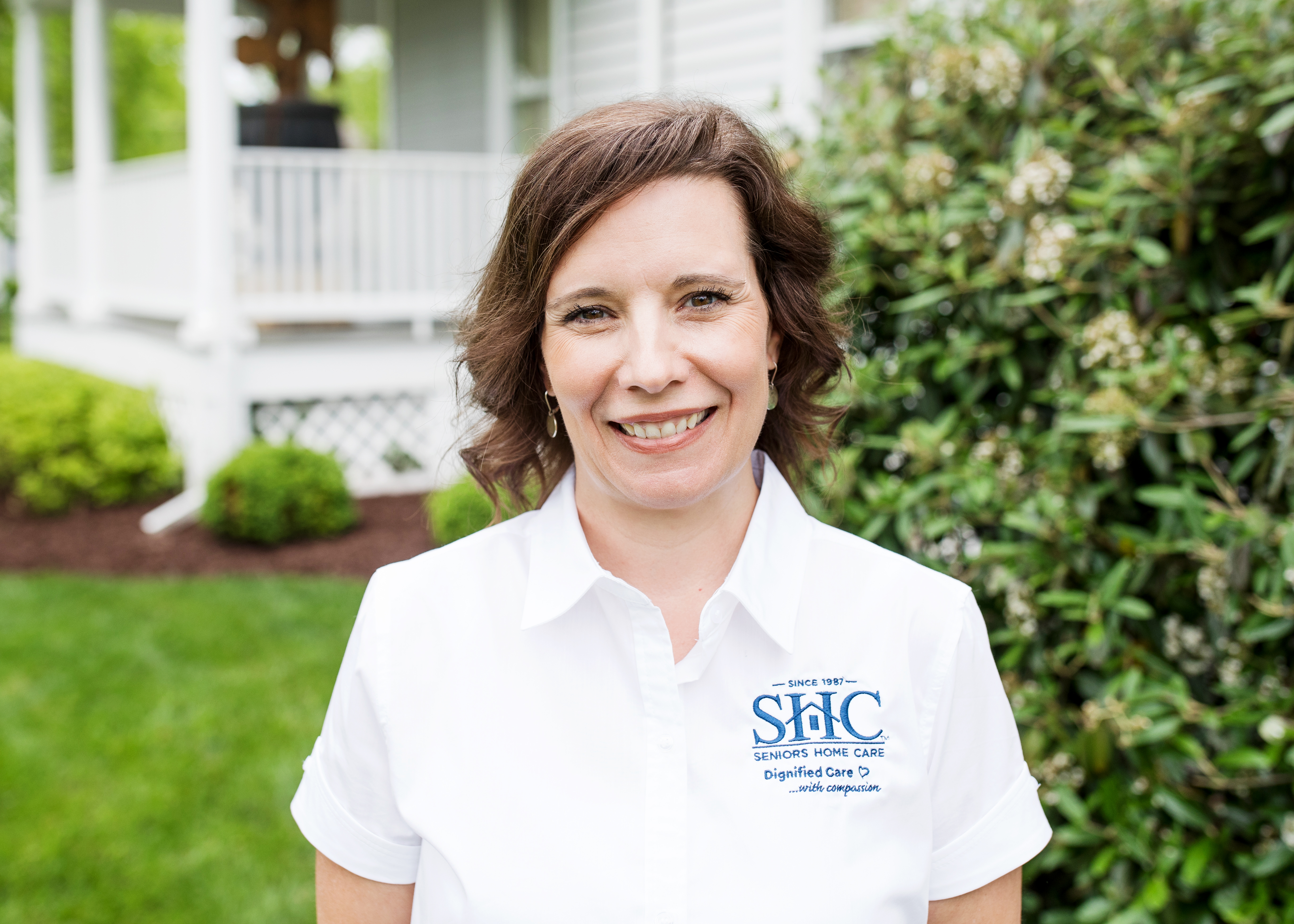 medications, and answers general medical questions from families and caregivers.

Fun facts about Julie:
Hobbies include gardening, running and fitness, traveling and serving various ministries at her church.
Has two little dogs – a long-haired mini-dachshund named Sadie and a dachshund/Yorkie mix named Ginger
Busy mom of three teenage daughters, who she has home schooled for the past nine years.
SHC Client Testimonial
My dad received excellent at-home care for three and a half years. Dad's wish was to live out the remainder of his life at home and thanks to the excellent care at Seniors Home Care, his wish came true.
Bob D.
10 Healthy Habits for Seniors
People who had good healthy habits when they were younger tend to become healthy seniors, but it is never too late. Good health habits can make a difference even to seniors who are prone to illness or have not made their health a priority in the past.

Consider these 10 tips for keeping up with your health needs:

1. Eat healthy.
The digestive system slows down with age, so high-fiber fruits, vegetables and whole grains are important. Because seniors are prone to dehydration, drink plenty of water to stay energized and sharp.

2. Focus on prevention.
Preventative care visits, including health screenings for cholesterol levels, colon cancer, heart problems and more, qualify for Medicare coverage. Seniors also need to get vaccinations that can help prevent influenza and pneumonia.

3. Get information on medication management.
Ask about and review your medications with your physician on a regular basis. Consider possible drug interactions and take note of any new symptoms (allergic reactions, drowsiness, loss of appetite and others) after changing or starting medications.

4. Get some sleep.
Frequent waking and insomnia in the night are common among seniors. Turn the lights down in the evening to spur drowsiness and make sure your bedroom is comfortable, cool and quiet.

5. Remember mental health.
The Geriatric Mental Health Foundation recommends doing crossword puzzles, reading and writing and trying new hobbies to stimulate your mind and engage with the world around you.

6. Screen for vision changes.
Seniors who wear glasses should have their prescription checked every year and have their eyes screened for health issues. Having the right pair of glasses can reduce the chance of falling.

7. Socialize.
Time spent with family and grandchildren helps you stay connected and feel more upbeat.

8. Stay physically active.
Exercise not only alleviates depression but improves energy and memory. An exercise program approved by a physician, long walks or short strolls can keep you healthier longer.

9. Take advantage of free physicals.
During the first 12 months on Medicare, seniors are offered free physicals. After that first year, you receive free annual wellness visits.

10. Visit the dentist every six months.
Our risk for cavities goes up with age. Plus, many mouth infections can be linked to serious health conditions, such as diabetes, heart disease and stroke. So you should see the dentist regularly.

Source: www.aplaceformom.com
Arthritis Awareness
Arthritis is one of the most widespread health conditions in the United States. It affects about one in four adults overall. That's over 54 million men and women.

Walking has been shown to improve arthritis pain, fatigue, function, and quality of life. Walking is a great way for people with arthritis to be physically active. For those uncertain about walking, proven programs such as Walk With Ease can help people get started.

Walking is recommended—All adults, including adults with arthritis, should get 2 hours and 30 minutes (150 minutes) of moderate-intensity aerobic activity (i.e., brisk walking) per week and do muscle-strengthening activities two or more days a week. If you take brisk walks for 30 minutes a day, 5 days a week, you will meet the aerobic activity recommendations from the Physical Activity Guidelines for Americans.

Don't think you can walk for 30 minutes at one time? You can break it up into 10 minute sessions and spread it out during the day—walk the dog 10 minutes in the morning, take a 10 minute walk to the post office, coffee shop, or grocery store in the afternoon, and then take a 10 minute walk after dinner.

Source: www.cdc.gov