Newsletter Archive
2020 │ Edition 1
Dear Friends,

I hope that this letter finds you well. My heart goes out to all those who have been affected by the Coronavirus (COVID-19).

During this difficult time, our mission to make "home" the best place to live has never been more important. It's hard to find words that express how grateful I am to our caregivers for continuing to provide essential care to our clients and bring peace of mind to their loved ones. It's humbling to see so many people rise up to face this challenge. I am thankful and proud of you all.

As we navigate the constantly evolving Coronavirus pandemic, we are adapting our procedures to safely and effectively continue providing care during these times. The safety and health of our clients, caregivers and community remain our top priority.

By now, you are likely familiar with the symptoms of Coronavirus and what to do if you are worried that you may have it. Therefore, we are going to focus this newsletter on coping strategies, connecting with loved ones, and keeping our spirits up in this time when we find ourselves physically isolated from others.

I am confident that we will get through this together and emerge stronger and more connected to one another. I wish you all the best and look forward to better days ahead.

Yours in Service,
Kit Whittington
RN BSN, Founder
Seven Ways to Cope with Anxiety During the Coronavirus Outbreak
You head to your local grocery store and the shelves are empty. Your usual social activities have been canceled, and the news is a constant stream of alarming stories about how the spreading coronavirus is upending life as we know it.

It's important to learn how to handle anxious thoughts.

These ideas from experts may help keep your anxiety under control.

Limit news consumption
It's important to know the facts and what you can do to protect yourself — but it's not going to help stress levels to obsessively watch the news.

Practice calming techniques
Different people relax in different ways, but if you feel particularly anxious you might try deep breathing, taking a warm bath, or sitting with your pet.

Move your body
Get a little exercise, such as walking or stretching to calm the tension in your body. If you calm the tension in your body, you calm the tension in your mind.

Connect with loved ones
Call, email or videochat with family members, especially if you are feeling isolated or you know that they are. You may find that they have more time to talk than usual because so many people are home from school and work.

Listen to music, find activities that bring joy
With symphonies, opera houses, ballets and theaters shutting down or losing their audiences to quarantine measures, many are bringing their offerings online: The Berlin Philharmonic, for instance, gave a free livestreamed concert on March 12, while playing to an empty concert hall.

Get stuff done
Tackle a hobby you've wanted to explore, or a project you never seem to have time for. Maybe you have some watercolor painting supplies in a closet, or a big box of old photos that you've been meaning to transform into a keepsake album. Accomplishing tasks such as cleaning closets or garages can be rewarding, while diverting your attention from anxious thoughts.

Find ways to laugh
Humor is a wonderful coping mechanism in times of crisis. Turn to sources you find funny, whether they're movies or TV shows, or friends whom you know will brighten your mood.

If you feel like your anxiety is getting extreme, interfering with your daily functioning, for example, ask for help. Reach out to your doctor, and a trusted confidant.

Source: www.aarp.com
Making the Most of Social Distancing
At this time, social distancing is our best defense to prevent further spread of Coronavirus. Complying with this necessary quarantining has proven to be more difficult that we might think. This is especially true for many older adults, who may already deal with issues of loneliness and isolation.

We have put together some ideas to help beat the boredom of social distancing.

Look through old photos. Relive enjoyable memories. This is especially fun if you have a spouse or loved one to reminisce with. Or, share your memories with a caregiver who has never heard them before.

Listen to music. Music is a great way to soothe anxiety and lift our hearts.

Do a puzzle. This could be a jigsaw puzzle, crossword puzzle, word search or any form of puzzle you enjoy!

Arts and crafts. In recent years, many people have found adult coloring books to be a fun and relaxing past time. Take up a new hobby, or pull out an old craft project that you've been meaning to finish.

Bake or cook. Bake a favorite recipe, or try something new. It's a good way to spend some time and you have a delicious treat when you're finished!

Do some chores. Doing chores can be fun when you have some help, such as a spouse or caregiver. Chores can also be a good way to get a little exercise while crossing tasks off your to-do list.

Take a virtual tour. Thanks to technology, we are able to visit museums and attractions virtually online. The new St. Louis Aquarium may be closed to the public, but through their website, you can view their habitats and watch videos. Already been to the aquarium? Take an online trip to Paris and visit the world-famous Louvre – it and many other museums and attractions are offering online tours.
Staying Connected While Social Distancing
Social distancing means less time spent with loved ones in person. However, being away from each other physically, doesn't mean that we can't spend time together at all. In this day and age, there are many ways to stay connected, even if we can't be together in person. Here are a few.

Call by phone. This obvious option probably doesn't need to be mentioned. We all have and know how to use the phone. We just might have more time to use it now. At this moment when many social calendars are on hold, take the opportunity to use this newfound time to catch up with old friends and family. It's a great time for children and grandchildren to have meaningful conversations with loved ones. Flip through your book of contacts and reach out to someone you haven't heard from in a while; especially those you suspect may be alone and not hearing from many people right now.

Write or e-mail. Everyone loves to open the mailbox and find something that isn't a bill or advertisement. Send fun postcards to friends and family. When receiving letters, you may want to give them a quick wipe with a disinfecting wipe to get rid of any germs. Or, for completely germfree mail, hop online and send an email. For a bonus, include a photo attachment to share what you (or your kids or pets) have been up to.

Videochat. It's like a phone call but with the added feature of seeing the person you're talking to. There are many options for video chats. Facetime is a popular choice for Apple iPhone users. Other services, such as Zoom and Skype, have also become popular. Though they may sound intimidating to the less tech-savvy, many are quite user-friendly. If necessary, call a younger family member or friend for help getting set up.

Social media. Social media sites, such as Facebook, can also be a fun way to stay connected. They allow you to see what others are up to and share news of your own. Social media is also a fun way to keep up with favorite sports teams or attractions. For example, the St. Louis Zoo has been posting videos of animals interacting while visitors aren't allowed to attend.

Through the help of technology and creative thinking, there are many ways to stay connected and keep our distance together!
Testimonial
They are very professional. The office always listens to us and provides what we need. The caregivers are professional and know what they are doing. Having them makes us feel comfortable.
Lilie D.
Get to Know…Ted
You've probably talked to Ted when calling the office. He also assists with marketing and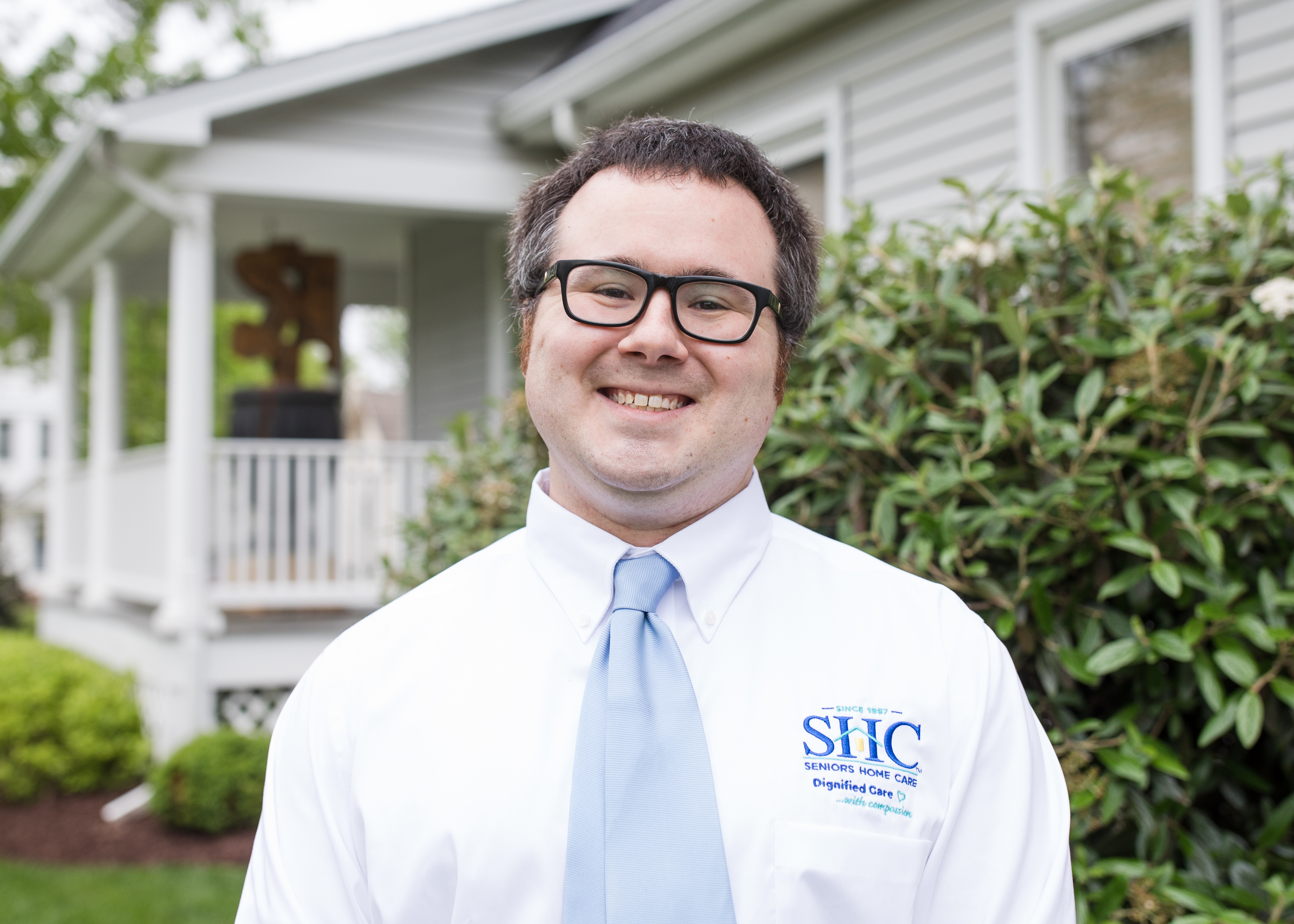 administrative tasks. Ted performs a wide variety of tasks associated with client and caregiver development. He also happens to gather the content for this newsletter.

Fun facts about Ted:
Loves and collects music – he has nearly two thousand CDs and hundreds of records.
Has lived in St. Louis his whole life but never been to the top of the arch.
His favorite candy is peanut butter M&M's.