Newsletter Archive
2020 │ Edition 2
Dear Friends,

I hope this letter finds you well as we continue to adjust to the "new normal" of life during the Coronavirus pandemic. My heart goes out to those who have been affected by the devastating virus.

I am happy to report that Seniors Home Care has continued to provide "best of the best" care thanks to our dedicated caregivers and the use of personal protective equipment and strict hygiene practices. It is hard to find words that express how grateful and proud I am to work with such amazing people. Through skilled and compassionate care, we strive to provide peace of mind to our clients and their families during these unusually trying times.

I am also grateful to all of our clients and their families who trust us with their care. We are here for you to provide the essential care and companionship to get through this difficult time and continue to make "home" the best place to live.

Yours in Service,

Kit Whittington
RN, BSN, Founder
13 At-Home Activities Besides Watching TV
Engaging in leisure activities has long been understood to help maintain cognitive, physical, and mental health. Here's a list of entertaining social, creative, cognitive, and physical activities. Most are free and all can be done in the comfort of your own home.

Games
Games are inexpensive and provide hours of entertainment. Crossword and jigsaw puzzles can be played solo. If you have a partner, you can play dominoes, cards, or board games.

Arts & Crafts
Many people enjoy textile arts such as knitting. If that's not your thing, try visual art, such as drawing, adult coloring books or photography.

Learn Something New
Make free time productive by learning a new skill. Some libraries offer free online courses. Most states offer tuition-free college courses for seniors, many of which are available online.

Tour a Museum
Tour museums from the comfort of your couch with virtual tours from Google Art Project.

Socialize
Use free time to stay in touch with friends and family. Call someone, stay up-to-date on social media, write an email or a letter, or Facetime with your grandkids.

Exercise
You don't need to have a gym at home to get some exercise. Walking, yoga, and Tai Chi don't require any equipment.

Culinary Endeavors
Cooking and baking are creative ways to spend your time with the added bonus of tasty results.

Read
You probably don't need to be told to read books. There are some new ways to consume this media. For instance, a subscription to the Audible app gives you access to over 470,000 audiobooks.

Listen to a Podcast
Podcasts are the new radio. Like ebooks, you can access podcasts with any smartphone, tablet, or computer. There's a podcast on just about every topic under the sun. Plus, you can listen whenever you want!

Garden
Growing something from nothing is satisfying. Plus, gardening has the added benefits of physical activity outdoors. Just avoid the heat of mid-day by tending to your garden in the morning and evening.

Record Your Memories
Record cherished memories on paper, video, or via audio recording. Your loved ones will enjoy the walk down memory lane for years to come.

Clean out Your Stuff
No one promised all of these activities would be fun! Another productive way to spend otherwise unobligated time is going through and culling the lifetime of stuff you've accumulated.

Genealogy
Preserve your family tree for future generations. New innovations like genetic DNA tests and online family trees make genealogy a challenging, engaging, and fun activity.

Source: SeniorsMatter.com
Get to Know…Desiree Roberts, Recruiting Coordinator
Desiree is a new addition to the SHC office staff. As SHC's Recruiting Coordinator, Desiree attracts caregivers to join our best-of-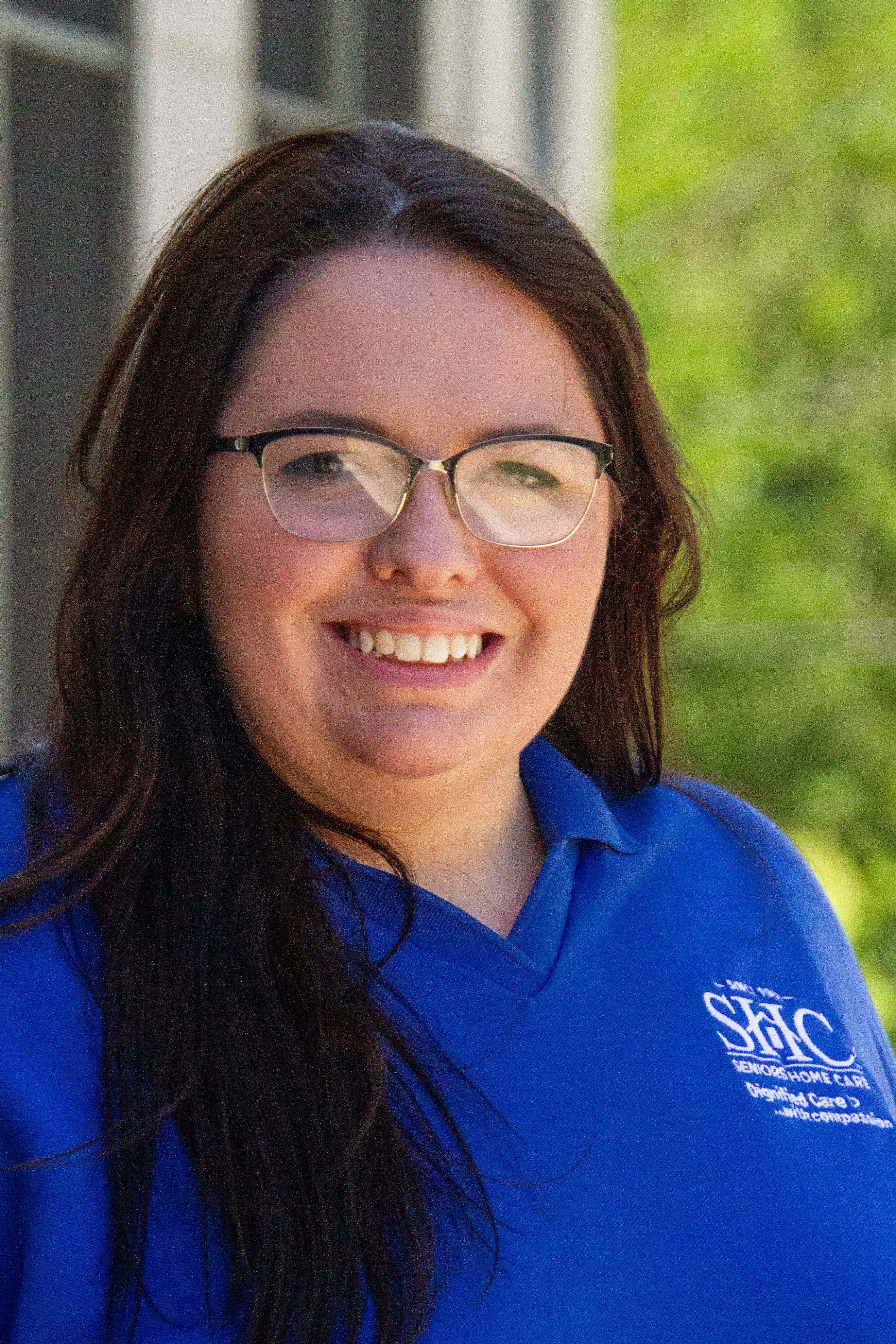 the-best team. She is the key player to growing our team and boosting employee engagement. We're so excited to welcome her to the SHC family!

Fun facts about Desiree:
Hobbies include nature photography, videogames, watching Netflix and YouTube and arts and crafts.
Her bucket list item is to travel to other countries and experience different cultures.
She is most proud of graduating college with a Bachelor's Degree in Psychology.
Has two older brothers.
The strangest thing on her desk is the hand painted turtle bobble head that her mother gave her.
Testimonial
They are good. My mother would not leave my father alone with anybody because she felt she had to be the one to take care of him. She just started going back to church, so she is leaving again. I like the care they give my father and the peace of mind they give her.
Shirl S.
How to Prevent Foggy Glasses with a Face Mask
As more Americans don face masks to venture outside during the COVID-19 pandemic, many of those who wear glasses are finding that their lenses fog up.

If your eyeglasses are fogging when you put on a face mask, it's because warm, moist air you exhale is being directed up to your glasses. To stop the fogging, you need to block your breath from reaching the surfaces of your lenses.

The Annals of the Royal College of Surgeons of England published an article in 2011 that offered a simple method to prevent fogging, suggesting that, just before wearing a face mask, people wash their spectacles with soapy water, shake off the excess and then allow the lenses to air-dry.

"Washing the spectacles with soapy water leaves behind a thin surfactant film that reduces this surface tension and causes the water molecules to spread out evenly into a transparent layer," the article reveals. "This 'surfactant effect' is widely utilized to prevent misting of surfaces in many everyday situations." Antifogging solutions used for scuba masks or ski goggles also accomplish this.

Another tactic is to consider the fit of your face mask, to prevent your exhaled breath from reaching your glasses. An easy hack is to place a folded tissue between your mouth and the mask. The tissue will absorb the warm, moist air, preventing it from reaching your glasses. Also, make sure the top of your mask is tight and the bottom looser, to help direct your exhaled breath away from your eyes.

If you are using a surgical mask with ties, a 2014 article in the Annals of the Royal College of Surgeons of England advises going against your instincts. Tie the mask crisscross so that the top ties come below your ears and the bottom ties go above. It will make for a tighter fit.

Source: www.aarp.org
CDC Guidelines for Shopping
Only shop in person when you absolutely need to. (Use delivery or curbside pick-up services when available.)
Avoid shopping if you are sick.
Stay at least 6 feet away from others.
Cover your mouth and nose with a cloth face covering.
Shop during off-peak hours (early morning or late night) or during special hours for high-risk people (65 or older, and those with serious underlying medical conditions).
Disinfect shopping cart with wipes if available.
Don't touch your eyes, nose or mouth.
Use touchless payment if available.
Use hand sanitizer right after paying with cash, a card or touching a keypad.
Use hand sanitizer after leaving store, then wash hands with soap and water for at least 20 seconds at home.
Source: cdc.org
9 Tips to Stay Cool in Hot Weather
Seniors need to be especially careful of overheating and heat stroke because their bodies can't adjust to high temperatures as well as younger bodies. Older adults are also more likely to be dehydrated, which increases their risk.
Drink plenty of cool water throughout the day (don't wait until you feel thirsty) and avoid alcohol and caffeine
Eat cooling snacks like homemade popsicles, frozen peas, or slightly frozen grapes
Eat light, cold meals like chicken or pasta salad instead of heavy, hot dishes like pot roast
Place a cool washcloth on the back of the neck and a pan of cool water close by to periodically re-cool the towel
Sit with feet in a pan of cool (but not too cold) water
Keep the house as cool as possible by keeping shades closed during the hottest part of the day
Wear layers of lightweight clothing in light colored cotton so it's easy to adjust to the temperature throughout the day by removing or adding layers
Take a cool shower, bath, or washcloth wipe-down. For maximum cooling, keep the water just below body temperature.
Cover up with a flexible ice blanket – always use a towel to protect fragile skin from direct contact with the ice
Source: DailyCaring.com