SHC Express Club - Are Your Home Care Needs Ever Changing?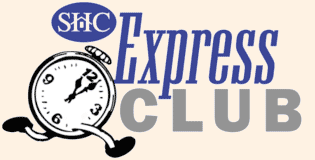 What would you do if you could no longer drive? Or you were unable to get to your doctor's appointments, see friends at social outings, or even go grocery shopping?
Yesterday I spoke with a family caregiver regarding transportation assistance for her mother. Her mother (87 years old) is in great health, very social, and has always been an active participant in the community. She is used to her friends picking her up and taking her places; however, recently her friends have not been able to do so:
"My mom needs assistance from time to time when she needs to get to the doctors office, church, social events, etc. What we really need a 'backup plan' for when her friends cannot help. Do you have a service like this?"
It was clear that her mother's health and independence did not necessitate a regularly scheduled caregiver - just someone who is dependable, trustworthy, and they could call in a short time's notice for help.
The Solution
For clients who do not want a regularly scheduled caregiver, Seniors Home Care offers the Express Club program. This program includes any regularly scheduled in-home services with only a 48 hour notice:
Companionship
Light Housekeeping
Personal Care/Bathing
PT/OT Exercise Assistance
Medication Reminders
Prescription Pickup
Meal Preparation
Nursing Home Visits
Transportation
Hospital Visits
Accompany to Doctor
Our clients tell us they sign up for Express Club when their home care needs are uncertain or ever changing. All Express Club clients receive the same benefits of SHC's traditional home care services with no weekly schedule requirements:
Registered Nurse Assessment and Care Plan
Accurate and Timely Scheduling
Assistance in the convenience of their home.
"Best of the Best" Caregivers.
For the family of our clients, Express Club offers peace of mind in assuring that there is backup in place and available when regular situations are not. Express Club is perfect for any family needing unforeseen help/backup and also who does not want the expense of a full time caregiver. SHC realizes that it is not simply a matter of getting to the doctor, seeing friends, etc., but it's about maintaining a quality of life our clients are used to having and well deserve.
If a clients needs become more than Express Club can address, regularly scheduled traditional private duty home care services are available from Seniors Home Care.
Join the Discussion
Seniors Home Care reserves the right to remove anything deemed inappropriate, off-topic or otherwise questionable; however, we have no responsibility to do so.