Finding Home Help for Seniors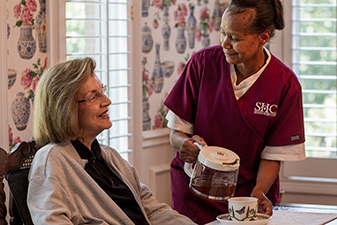 Looking for home help for seniors can be frustrating. Sometimes, it can seem like there are a million options, and none of them are quite what you're looking for. Sifting through a bunch of agencies with no idea how reputable they are can feel unproductive, but you can't give up on finding the right sort of help for you or a loved one. Luckily, there are many different options for finding home help for seniors to make the process more manageable.
Once you've decided to get in-home caregiving for your loved one, there are several steps you should take to find the right caregiver. Here, we'll take you through finding senior home companions, what to look for when you find them, and some resources for paying for these services. Caring for a loved one is hard work. Finding the right senior home companions, whether they offer 24/7 home care or brief visits, can be a huge weight off your shoulders.
What other options are out there?
Although in-home care is a great option for senior care and will be our focus here, you might want to at least have a glance at the other senior care alternatives available to you. You want to be sure you're making the best decision possible, after all.
Before you consider home care, you may want to contact the local senior center to see if there are support groups and activities for seniors in your area. Socializing and meeting other people can help your loved one to feel more independent. While this is far from 24/7 home care, this can be an excellent way to help the senior in your life feel like part of a community.
Of course, many seniors need more help than occasional companionship at the senior center. Daily tasks can become more and more difficult as we get older, and you'll want to find a more comprehensive care option for your elderly relatives if they're struggling to take care of themselves. You could always look into the residential options available to you, like retirement homes. Those options can provide comprehensive care for someone who needs help with basic tasks. However, people often don't want to leave the houses they've lived in for decades.
That's where options like home help for seniors come in. It's a great choice for a huge variety of needs.
The Different Types of Home Care Services
Home care can help make aging at home safer and more manageable for older adults of all abilities. There are several different kinds of home health care available and many caregivers who can provide this type of help. These services range from giving supervised, hands-on medical care to merely providing companionship and doing light housework. All types of people with all types of needs can benefit from senior home companions because of this variety of available services.
There are a few guidelines for finding a suitable caregiver for your aging loved one. First, ask relatives and friends for referrals. Then, check with your local Area Agency on Aging to see what licensed home care providers there are in your area. Finally, visit the websites of the agencies you discovered in the first two steps to learn more about their training and experience.
There are several reasons why more seniors are turning to home health aides to help take care of themselves. One is that they don't want to be left alone; another is that they don't want to burden their caregivers. Elderly homeowners may have Alzheimer's disease or dementia and don't know where to turn. Many seniors may also be afraid to admit that they need help. Home health aides, who are trained to provide both medical and non-medical care, can provide much-needed help for these seniors.
Another important factor in choosing a professional caregiver is to consider the needs of each patient. Family members should work with the professional caregiver to develop a care plan that meets each individual's medical and emotional needs. If your needs aren't being met, don't hesitate to communicate that with your caregiver. They should be happy to accommodate you where they can.
The type of service provided by a caregiver is also very important. Often, if a person lives alone, they may feel isolated and not connected to a community. When living with the help of a caregiver, they can become more comfortable and feel more connected to their surroundings. Senior home companions can come and go as the senior and their family needs. Some people even prefer to employ a live-in caregiver because it offers them more privacy and freedom than a nursing home. However, if a patient requires more services, then a staff could be needed.
Finding Good Home Help: The Facts
Home care is one of the fastest growing sectors in the elderly support industry. Because there are many people aging and many more who are living with chronic conditions or disabilities, there is a huge need for home help for seniors. Finding the right home help for seniors can make the difference between your loved ones living independently or not.
Before selecting any type of senior home health care service, you need to ask yourself some important questions. Are your senior loved ones happy with where they live? Are you comfortable having someone other than your family members in their home? Do you have enough time on hand to provide the type of personal care your senior requires?
Once you have an accurate answer to those questions, look for a company that offers what you need. Remember to confirm that they are experienced and skilled in providing the specific type of assistance you require. You should also look at the cost of home care. Be sure that you are getting a fair price. A reputable company should be willing to offer a free consultation to show you how much they will charge and whether or not you will be able to afford it.
Next, talk with your loved one's doctor about home help for seniors. Find out if the doctor already has a list of appropriate home healthcare providers. If they do not, still ask your doctor about their recommendations concerning home health care aides. They may be able to recommend a company or an individual to you that already has a good reputation, or they might have other important considerations to keep in mind when you're looking at services.
Finding home health care for seniors does not have to be a difficult task. You can search online, read about a company, and call them. This information is easy to find, and you may find it is the best thing you ever did. Home health care is the safety net of choice for many elderly citizens, so take the time to consider this type of help for your loved ones.
Everyone should consider the safety and security of our seniors. No matter how you're finding care providers to look into, there are plenty to choose from. Take the time to consider all the options, and make a choice that will best meet your needs. Finding home health care for seniors may seem like a daunting task, but with some time and patience, you can find the right home care provider in your budget.
What should you know about paying for home help for seniors?
If you can plan far in advance, you can purchase long-term care insurance or another type of policy that covers long-term care. It's best to look into this option as soon as possible.

Government assistance is sometimes available for seniors' home care services, and you might qualify for a tax break if you pay for caregiving.

Make sure to look into any benefits and programs you might be eligible for, as there are many different ones out there. Senior home care companions can be expensive, but there are many ways to make it work.
Interviewing Candidates
It's prudent to make sure you have a good idea of what your elderly loved one needs before you speak to senior home companions. Are you looking for 24/7 home care? Or would a less extensive schedule be better? Ask your loved ones what they need help doing, and make a list. This will be good to have as a reference during your conversations with home care providers — you can tick off needs as they're addressed. Once you have all the details you need, you can begin contacting these providers. If all the items on your list aren't services a certain provider offers, you can eliminate them from your search.
Take the time to talk with the senior care staff at the various care facilities you have been looking at. Ask them questions regarding their services, pricing, availability, and anything else you may need to know.
You should ask them how long they have been offering home health care and what kind of services they offer. They can give you a general idea of what you can expect for your loved one, but you may still have some decisions to make. In addition, you should ask them about any questions that come up about their services, including the qualifications of their staff. A good home health care provider will have plenty of references from past clients.
Make sure to keep home care companies updated on your progress, and follow up with any new questions that arise. Finding the right home help for seniors can take some time, but it is worth it when you find the right home care provider that makes your loved one feel comfortable and safe.
24/7 Home Care
Around-the-clock senior care is now fairly common. Agencies that offer this service are there to help out as much as possible. They offer a wide variety of programs for seniors, and if you are not sure what kind of senior care program will be best for you, then check with an agency near you.
24-hour home care can be exceedingly comforting for seniors who can't be left alone for whatever reason, and it can be a solution to long or short-term care needs. If your loved one needs around-the-clock care for a few days as they recover from a medical procedure, or if they need long-term 24/7 home care, this sort of care can be a great fit.
You can give them the complete care that they need and make sure that they have everything that they need to live as independently as possible. They will still be around people such as family members and close friends to keep them company and to help during times when they are feeling down, but those visits don't have to double as caregiving calls. Getting your loved one 24/7 home care can relieve stress for everyone involved.
To Review...
24/7 home care can be a great way to keep both you and your loved ones well taken care of.

24/7 home care offers fantastic resources for you and your loved ones, and it allows them to stay in their own home.

If 24/7 home care isn't an option for you, senior home companions can be a great alternative. The senior home companions are often affordable and can take fantastic care of your loved ones.

Any kind of home help for seniors can be affordable and a great relief to your loved ones. Home help for seniors can be customized to your needs and provide great overall care.
Conclusion
There are many great options available for 24/7 home care, senior care, and senior home companions. Make sure to thoroughly research all options in your area, and go into the process with a good idea of what kinds of services you and your elderly loved one are looking for. Thoroughly vet each provider you're considering and look at your payment options. Home help for seniors is anything but a one-size-fits-all field, and with the right focus, you can find a great fit for you and your family.
Join the Discussion
Seniors Home Care reserves the right to remove anything deemed inappropriate, off-topic or otherwise questionable; however, we have no responsibility to do so.