Home Care Basics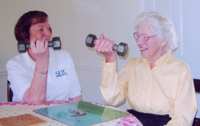 Home care services fall into five general categories, although some home care agencies may offer multiple services and have more than one service provided by the same person from their agency.
Homemaker Services
Caregivers provide home management assistance, such as grocery shopping, light housekeeping, laundry, and changing beds. When a seniors health is comprimised, many times these basic services can help them get back on their feet.
Personal Care Services
Caregivers provide assistance with daily routines, such as bathing, dressing, grooming, eating, using the bathroom, and a helping hand to get around.
Meal Services
Caregivers can provide meals to seniors either in their own homes through personilized meal preparation. Seniors can also find meals available in senior centers, churches, synagogues, schools, and other community locations.
Home Health Care Services
Professionals assist people with health and medical conditions that are being treated at home. Home health aides or CNA's will assist with basic health care such as taking vital signs (temperature and pulse), monitoring fluid intake, and assisting with medications.
Skilled Health Care Services
Companies provide registered nurses, licensed practical nurses, and physical, occupational, and speech therapists who give skilled nursing care and rehabilitative therapies at home. Medicare will pay for short-term home care when skilled services are needed, usually following surgery or acute care stay in a hospital.
Seniors Home Care specializes in all home care services except "Skilled Health Care Services" Please contact us for a personal recomendation of trusted skilled home care companies.
Join the Discussion
Seniors Home Care reserves the right to remove anything deemed inappropriate, off-topic or otherwise questionable; however, we have no responsibility to do so.