Understanding Senior Companion Care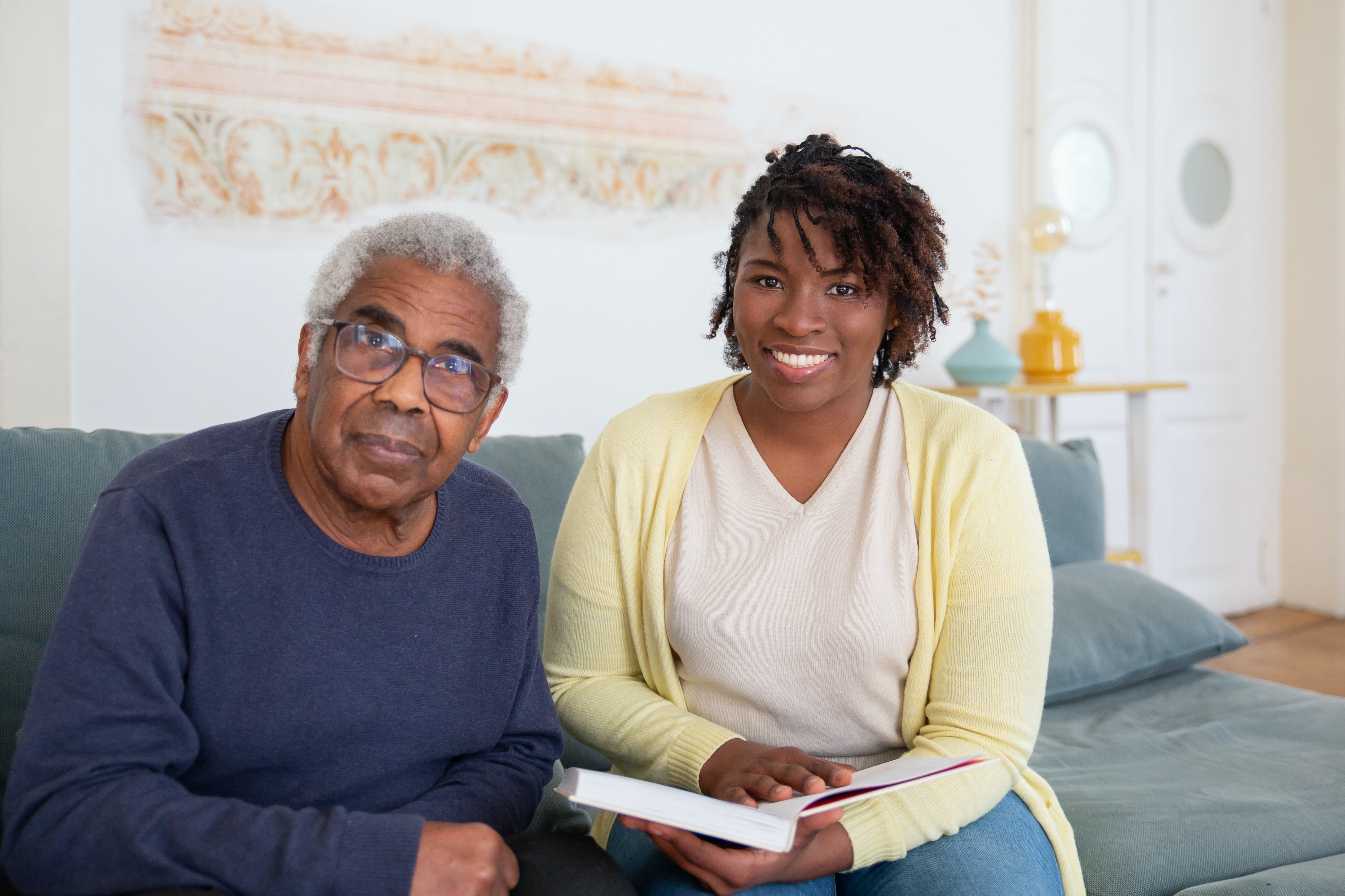 Introduction
As we get older, we often need assistance with daily activities like getting out of bed or preparing meals. When this becomes a problem, it's time to look into senior home care. In-home care can also be a valuable resource for family caregivers who may need help caring for an aging parent or loved one who is no longer able to do so independently.
What is senior companion care?
Senior companion care is a non-medical in-home service that provides companionship, homemaking assistance and personal care for seniors. Senior companion services are provided by either a professional caregiver or family member.
The role of the senior companion caregiver is to provide support to older adults who want to remain in their homes but need some help with their daily living activities. Caregivers may assist with household chores such as cleaning, laundry, meal preparation, grocery shopping and bill paying; transportation to doctor's appointments and social events; light housekeeping duties like dusting furniture or vacuuming carpets; running errands such as picking up prescriptions at the pharmacy or dry cleaning services; providing transportation within city limits (such as taking you out for lunch); assisting with medication reminders; helping people maintain independence through one-on-one instruction on tasks such as using kitchen appliances (e.g., blenders) safely without risk of injury while demonstrating proper techniques while making food items (e.g., smoothies) yourself rather than having someone else prepare them for you.
Senior companion care services typically include non-medical support such as:
Personal care (bathing, dressing and grooming)
Transportation to medical appointments, shopping or other errands

Household chores such as cleaning, laundry and meal preparation

Accompanying clients for walks or assisting with exercise

Offering conversation and friendship
If your loved need help with the day-to-day tasks of living, we can help. Whether it is assistance with daily activities and household chores, like grocery shopping and meal preparation, or assistance with personal grooming, there are senior companion care programs that fit your needs.
Personal care services include assistance with activities of daily living, such as bathing, dressing and grooming. These tasks can be difficult for many seniors to manage on their own. Personal care includes assistance with toileting, which includes using the toilet and cleaning up after accidents or bowel movements. If a senior has trouble getting in and out of bed or chairs, a caregiver can help by transferring them safely from one place to another.
In-home care can also be a valuable resource for family caregivers.
Family carers are often under great stress, as they're required to help their loved ones with a range of activities in addition to their regular daily responsibilities. In-home care can provide a valuable respite for the family caregiver.
In-home care helps family caregivers by relieving them from some of the responsibilities associated with caring for an older person. It allows them time away from the stresses and strains of providing 24-hour support for an elder who may be suffering from dementia or other debilitating health conditions. By removing some of this burden, family members are able to spend more time doing things they enjoy while being confident that their loved one is receiving high quality care while they're away.
Transporting your loved one to doctor appointments is an important part of the home care process. Getting out of the house and socializing with other people can make a huge difference in their mental health, as well as help them stay healthy physically. It's easy to overlook this aspect of senior home care; however, you should discuss transportation with your loved one when setting up their care plan.
What is round the clock home care?
What is round the clock home care? Round the clock home care means that you have a caregiver who can be with you 24 hours a day. This type of service is available in private homes and assisted living facilities.
Round the clock service is helpful for those who need help with personal care, such as bathing, dressing and feeding themselves. It's also ideal for those who suffer from chronic conditions that require constant attention—such as diabetes or congestive heart failure.
How to tell if it's time for senior companion care
If you're like most people, it's hard to tell when it's time to hire a senior companion or find round the clock home care. If you notice any of the following signs, it may be time to have a conversation about home care:
A change in medication schedule or medication dosage

Frequent falls and injuries caused by poor balance or loss of motor skills

Decreased appetite and weight loss due to lack of interest in food or cooking

Changes in appearance

Home has fallen into disrepair

Mental/behavioral changes (confused, lapses in memory, mood swings, aimless/restless, angry/abusive, halted/repeated speech)
Dangers of isolation among elderly
The dangers of isolation in the elderly are well-documented. As we age, our physical and mental health becomes more fragile and less able to withstand stress. Because of this, isolation can be devastating for seniors who have lost loved ones or suffered a loss of mobility or independence. Dangers of isolation for the elderly community include:
Increased risk of cardiovascular disease

Increased risk of heart attack or stroke

Feelings of depression or anxiety

Higher rates of chronic illness

Higher stress levels

Increased risk for cognitive decline, including dementia and Alzheimer's

Decreased physical mobility

Higher risk of suffering a severe accident

Higher rates of malnutrition

More overall medical attention and hospital admissions needed

Lower rates of longevity

Higher likelihood of developing poor health habits
Our senior companion care program helps prevent further damage by providing high-quality companionship and assistance with daily tasks like cooking meals, grocery shopping and errands. Elders who receive round the clock home care from our professional caregivers don't have to worry about being alone during the day while their family members are out working or taking care of other responsibilities; they can remain safe in their own homes without worrying about what might happen if they don't receive help from someone trustworthy and experienced in elder care services.
How to find senior companion care
Senior companions are paid employees who provide personal, friendly care for seniors. You can find senior companions through the following methods:
Ask a family member or friend
They may know someone who is looking for work and would be happy to do it as part of their own retirement plan. They can also offer insight into the kind of person you're looking for, based on their past experiences with this particular individual.
Do an online search
The internet makes finding someone easy—you just need to know what you want! Searching "senior companion" in your area should yield results that include both agencies and individuals offering services (and sometimes both). You can also search by keywords such as "senior companion," "home health aide," or even simply "companion."
Ask your doctor or healthcare provider
Ask your doctor or healthcare provider about nearby agencies they recommend working with when seeking out home health aides (HHA's) or paid caregivers in general; these facilities can often help match clients up with appropriate candidates based on their specific needs and requirements—or at least point them in the right direction so they don't have too much trouble locating one themselves later down the road when needed most urgently during times when unexpected events occur unexpectedly without warning like sudden emergencies where someone suddenly falls ill unexpectedly without warning due perhaps due perhaps because he was only supposed be recovering slowly but instead had another setback causing his condition not improve but instead worsen quickly resulting in him needing around-the-clock assistance until he gets better again which could take months depending how long recovery takes generally speaking because some people recover faster than others while others might take longer so these factors determine how long before someone returns back home again safely once again safely
Choosing the right type of senior companion care
There are several different types of senior companion care. Finding the right one for your loved one is important. Here are the main four types of senior companion care you're likely to find throughout your search.
Live-in companion care
Live-in senior companion care, or round the clock home care, is usually provided by a home care service. It involves 24-hour shifts by one or more person. This type of service is ideal for keeping a senior in their home as long as possible and usually involves many types of services from meal preparation and house cleaning to grooming, bathing, and transportation to appointments.
In-home companion care
This type of service typically involves shorter visits with specific goals such as meal prep, assistance with bathing, or transportation to an appointment or for grocery shopping. There is also well-person checks that occur when friends, family, or other members of the community stop in on a regular basis. Such support can come from a local church, neighbors, or from a paid service.
Companion hospice care
Hospice provides companion care through a variety of means. A hospice has volunteers who stop by to visit and to help. A hospice volunteer might run errands for the senior or help them to appointments. Hospice also provides Home Health Aids for personal needs and respite visits. Hospice is a dynamic organization and other senior companions include social workers, clergy, and nurses.
Religious-based companion care
This type of senior companion care is often available through many religious groups such as Christian companion care, Catholic companion care, etc. If the senior has been part of a religious community, begin the search within that group. Familiar faces make great companions. If not, most religious groups are happy to help and many non-denominational religious groups are available too.
Find out more about senior home care options near you
To find out more about senior home care options near you:
Contact your local senior center or community center. These organizations often have lists of reliable and reputable home care providers within their area.

Talk to your loved one's local doctor, who can provide recommendations based on their specific needs.

Check out your local area on the Internet and look for home health care agencies that specialize in meeting the needs of elderly people like your loved one. This will help narrow down the field from a large list of local businesses to a small amount of quality services that are tailored specifically for seniors like yourself!

Look in the phone book under Health Care Services (or Healthcare Facilities) & Professional Services/Senior Citizens Services/Home Health Aide/Homecare Aide - all these terms mean basically the same thing; there should be plenty here listed just by searching through each category alphabetically until you find something good!
Conclusion
In this article, we've covered a lot of ground. We hope that you have a better understanding of what senior companion care is, what it can do for you or your loved one, and how to find the right provider for your needs. If I could give one takeaway from all this information it would be to remember that senior companion care services are not just about getting help with day-to-day tasks—they're also about connection. The companionship and support provided by home care workers help seniors stay independent longer so they don't have to move into an assisted living facility or nursing home prematurely. This can save families thousands of dollars per year in unnecessary expenses!
Here at Seniors Home Care, we would be happy to have a conversation about whether our senior companion care services would be the right fit for you and your family.
Join the Discussion
Seniors Home Care reserves the right to remove anything deemed inappropriate, off-topic or otherwise questionable; however, we have no responsibility to do so.